"Chiropractic kept me on the competition floor!"
Dr. Tim Dehr
I was introduced to chiropractic in 1996 during my senior year of high school. I was captain of the varsity boy's gymnastics team at my high school and preparing to start my senior season as an athlete. We were heavily favored to make another appearance in the State Championships and I was ranked near the top on almost every event. Things couldn't have looked brighter… until that fateful morning when excruciating back pain almost jeopardized everything we had worked for. I tried everything and the conventional means of medicating away the pain were not working. I was out of options and considering retiring some of the events I was scheduled to compete in.
On a Whim…
On a whim, a teammate told me about a chiropractor that had helped him out. Having no other options, I was in his office the next day. After an initial consultation and exam, he took some x-rays. The second he showed me my
x-rays it was so obvious why I was having pain and why all the medication in the world wasn't going to change a thing. I had a congenital growth defect in my spine which was changing the natural motion of my lower back and causing the rest of my spine to have to "pick up the slack." The relief after the first adjustment was almost immediate. I continued under my doctor's care for the rest of the season and was able to compete in every event for the remainder of my final season. Chiropractic kept my athletic career and future alive!
Full Circle
This story actually came full circle for me during the last year of my chiropractic residency. A 13 year-old came to me with debilitating back pain. There is nothing more heart breaking than seeing a young child have to drop out of the sports and activities they love due to pain. The patient was actually in so much pain that their exam findings were practically inconclusive, everything I did anywhere, made their lower back hurt. So, I recommended we shoot x-rays to see what was going on. As I put the x-rays up for the first time I couldn't help but smile and get excited because I saw the same condition I saw 10 years earlier, and knew I could help. By the second visit the pain was gone!
On a Personal Note
I spent an amazing five years right here in Ann Arbor completing my undergraduate degree at the University of Michigan. I also competed for the men's varsity gymnastics team. After, red-shirting my freshman year I went on to letter four years and was co-captain my senior year. During my time on the team we won back-to-back Big Ten titles in 1999 & 2000, as well as winning the NCAA National Championship in 1999.
During my time spent competing in gymnastics I truly learned the "athlete mindset." I also saw and experienced firsthand the rigors and demands that athletes put on their bodies. I also discovered my interest in the human body and how it works while taking my first Anatomy and Physiology course. I finished with a Bachelor of the Arts in Sports Management and Communications under the Division of Kinesiology.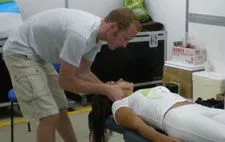 - Dr. Dehr adjusting professional tennis player and Olympian, Melissa Torres at the 2007 Pan American Games in Brazil.
A Chiropractic Education
I completed my chiropractic education in Dallas, Texas at Parker College of Chiropractic. During my graduate course work I was chosen as 1 of 4 students to travel to Rio De Janeiro, Brazil to treat athletes during the 2007 Pan American Games. In Brazil, I worked mostly with the Mexican Olympic Team along side their team of MDs, Physical Therapists, trainers and masseuses. The experience was a once in a lifetime opportunity to be a part of an international athletic competition, as well as a great chance to share the benefits of chiropractic with athletes from various countries.
Thank you for reading my story! I look forward to meeting you and discussing how safe and natural chiropractic care can help you. While you are here, enjoy the site. I hope it can answer your questions about what I do; and if not, please don't hesitate to call Performance Health Chiropractic or email me with the link above.